I believe in love at first sight, I really do. Sometimes it happens with people and animals, but there have been MANY times in my life that I have fallen in love with things that I need to own. When I was younger it was toys, then handbags, but that is RL. In SL it's clothes that tend to get my love at first sight senses tingling. I'm not superficial, I'm not the kind of girl that needs material things, and SL has provided me with a RL Love at first sight in the form of my ever suffering HellBone, but now that I have him it's clothes, clothes and more clothes! OH and don't forget shoes, hair and jewellery too LOL...
This is one of those things, today I am going to share with you a love at first sight dress...
The JACKALOPE Siren Dress was my love at first sight item... I liked it as soon as I saw it posted on Flickr and then when I saw a gif that showed the water lighting textures moving... Well that was it, I HAD to have it. It's available at The Secret Affair until tomorrow - January 29th.
OK I mentioned before that the texture moves... I HAVE to show you, so I created a gif so that you can see too...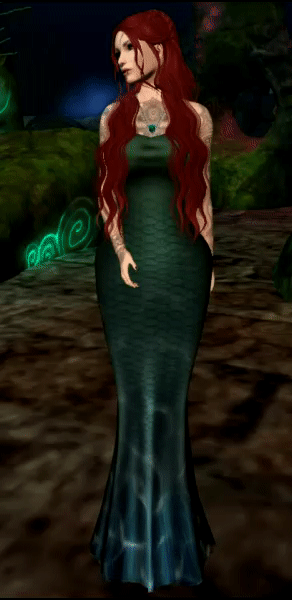 What is she wearing;
Hair: TRUTH - Kingdoms Gacha Hair in Wind Reds (Available until February 15th at The Epiphany)
Skin: Glam Affair - Seya in Europa 2
Necklace: Plastik - Crystis Necklace in Silvered
Dress: JACKALOPE - Siren Dress in Moss (Available until January 29th at The Secret Affair)
Pose: Signature Pose - Portrait Pose 2